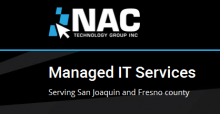 We are proud to be partners with NAC Technology Group.
Their services can dramatically reduce or eliminate computer problems in your business, as well as maximize your network's speed, performance, and stability, without the expense of a full-time IT staff.
Of special note are their Remote Backup Services. Keep your data secure from hardware failures, viruses, and other disasters.  The cost of disaster recovery is massive - the cost of maintaining backups is insignificant in comparsion.